May 2022
Amanda Pierce|
May 12, 2022 |
9 minutes to read
Our Fam
May Anniversaries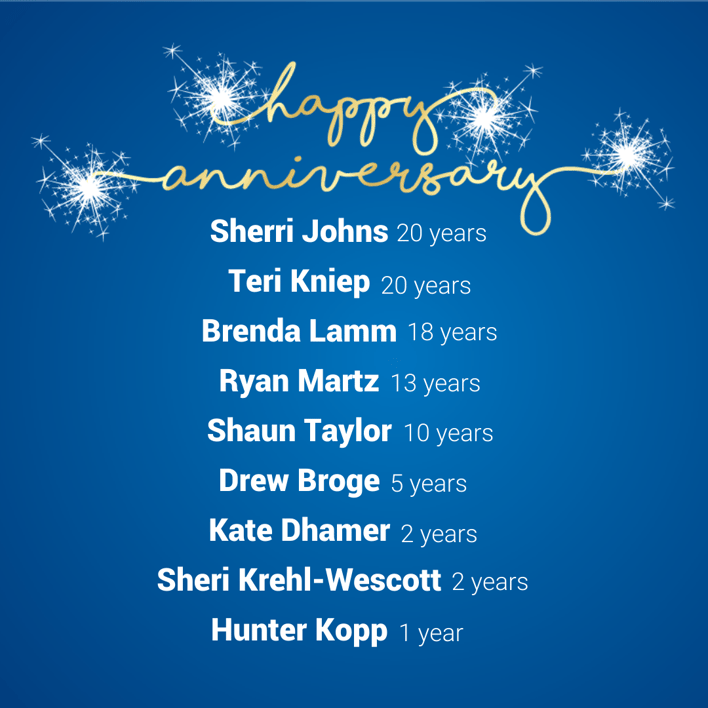 Thank you for your years of service, your hard work, your dedication, and for everything that you do each day. Happy Anniversary Sherri, Teri, Brenda, Ryan, Shaun, Drew, Kate, Sheri, and Hunter!
---
April Recap
Administrative Professionals Day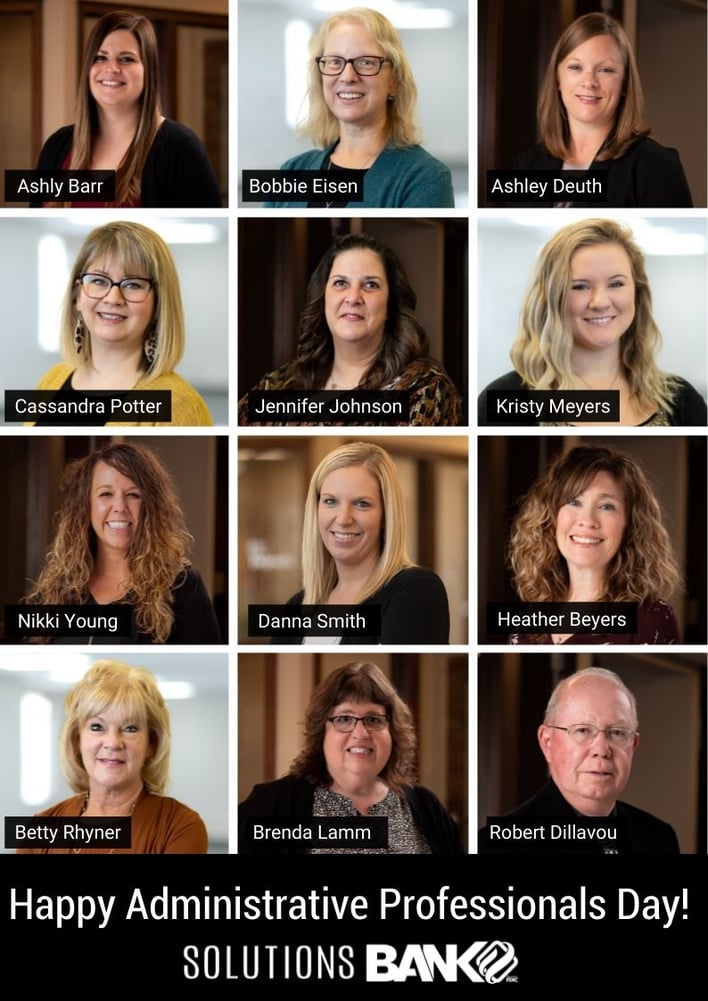 Administrative Professionals Day was on April 27th! We appreciate you going above and beyond to help serve our customers each and every day. Thank you for all you do!
Children's Hands-On Museum of Northwest Illinois - New Bank Exhibit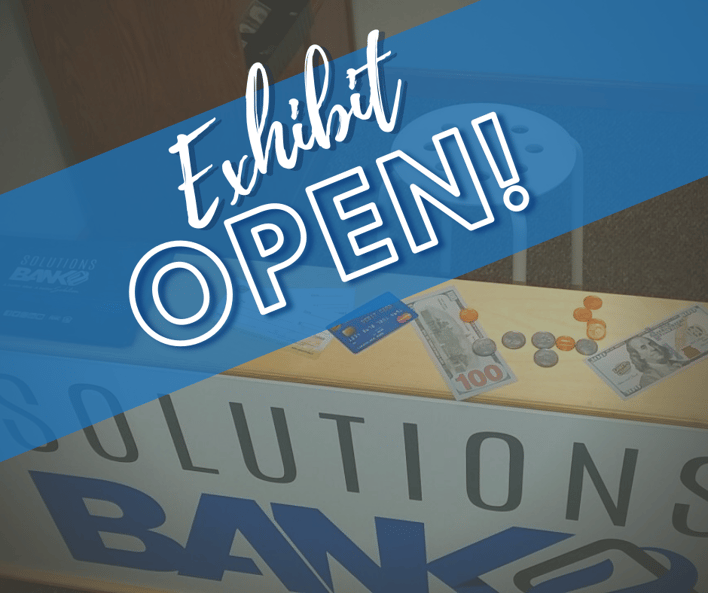 The banking exhibit is complete! We've teamed up with the Children's Hands-On Museum of Northwest Illinois (located in Freeport, IL) to help children to grow and learn through play. Be sure to like them on Facebook! https://www.facebook.com/chomnwil
Home Show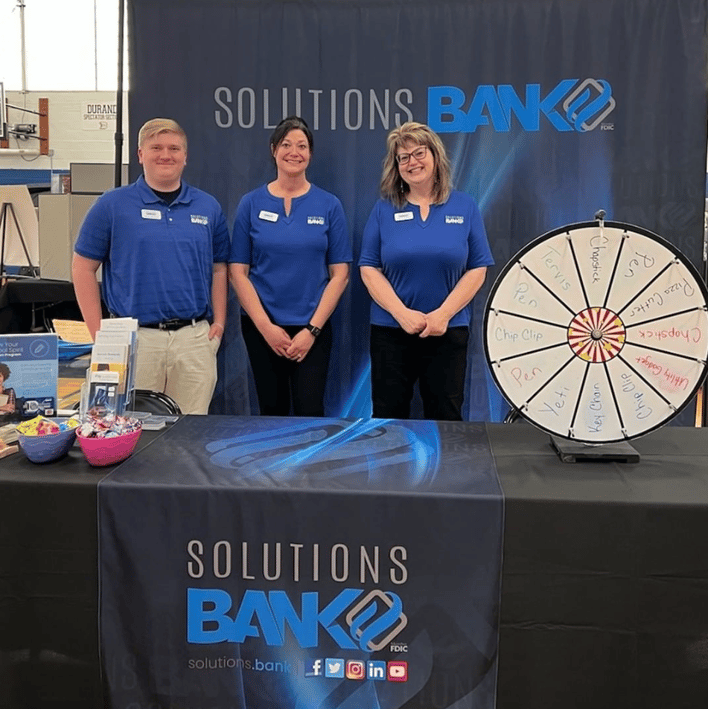 We had a booth at the Home Show in Durand with some great volunteers! Hope you had time to swing by, spin the wheel, and win some prizes!
Bunny Trail 2022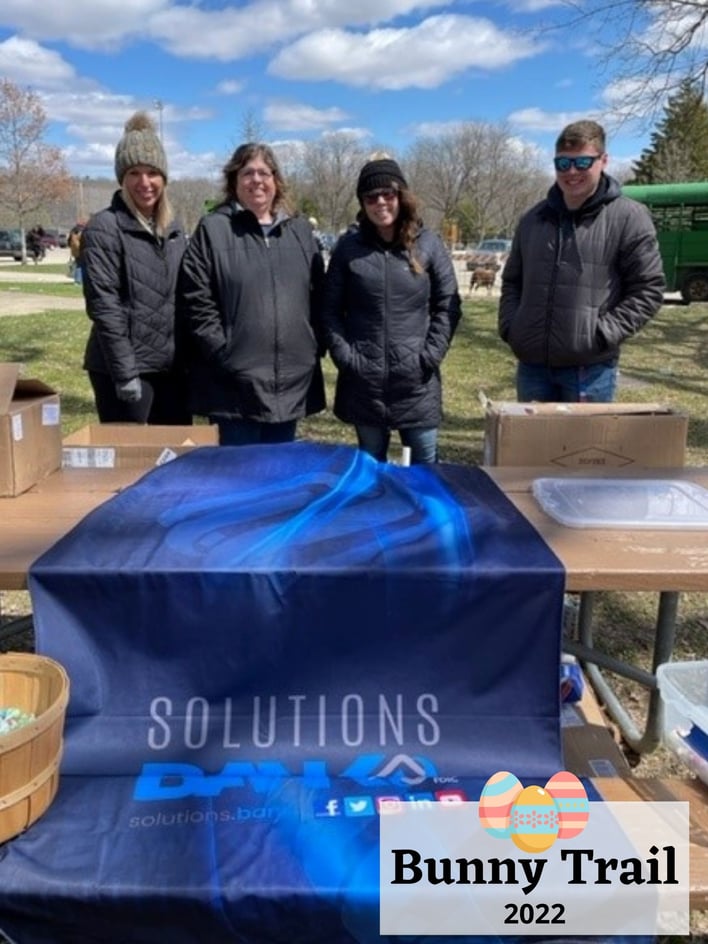 Some of our Solutions Bank team was at the Bunny Trail at Krape Park with fun giveaways and games for the kids! Thank you to the Freeport Park District for hosting the fun, to everyone who stopped at our table, and to our staff that helped!
Solutions Bank in the Classroom
Some of our staff visited the Forreston Grade School and set up a candy store and a fruit/vegetable stand, where the kids learned how to count and exchange money. We had store keepers and shoppers with 4 different stands. We love to make learning fun!
---
Community Banking Month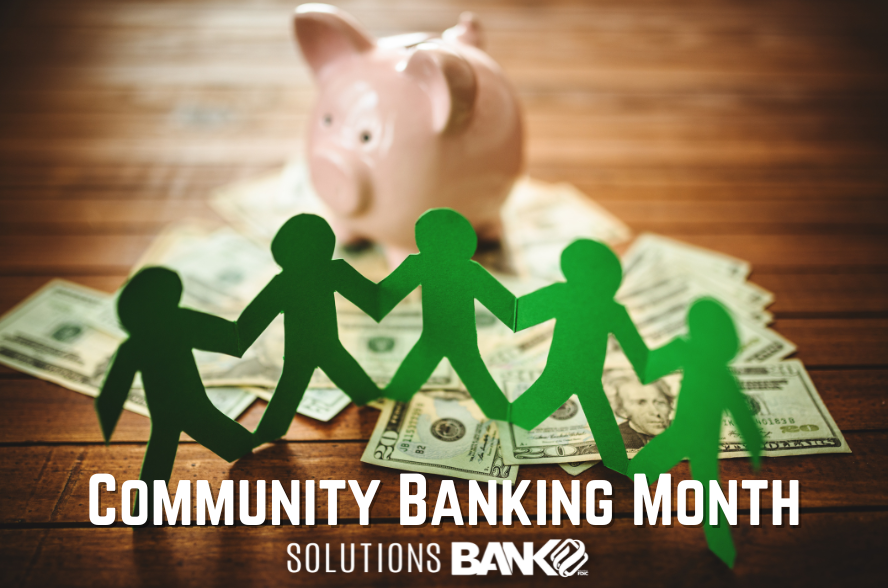 April was community banking month. As we mentioned in our social media posts this past month, we want to help you get to know us so we asked our staff what being part of community bank meant to them. Here's their responses:
"Having knowledge of your community helps build long lasting relationships with your customers." - Mary Hill
"Being part of a community bank means connecting with customers in a way that shows them that we are part of their community and are concerned with what is happening in it.  Living and working in the community you are able to foster relationships that convey true caring about what is happening in their lives.  I feel our customers truly trust us because of the relationships that have been developed in this community bank." - Robert Johns
"Being a part of a Community Bank means helping my 4th grade teacher and my next-door neighbor.  It means helping my son's basketball coach and the cashier at the grocery store.  Being a part of a community bank means helping the waitress at the local restaurant and my fantastic hairdresser.  It's about working together so we may all focus on what matters!" - Millicent Graves
"It's building relationships and creating a positive commitment when providing direct local support. It is understanding the direct impact when serving the community with volunteer efforts or monetary assistance. It is making a difference." -Sheri Krehl-Wescott
"To me, the word 'Community' means everything in banking. We work everyday to positively impact our community both by volunteering and helping our local businesses and their customers! I have been so thankful for my opportunity to help the community and look forward to what exciting things the future holds." - Drew Broge
"Community Banking to me is providing traditional banking services to the members of our community and surrounding communities with a "relationship" focus; over a transactional one.  We have specialized knowledge of our local community and the customers, thus allowing a more personal experience." - Kimberly Bowman
"Being a part of a Community Bank means supporting small business and helping people's dreams come true. It means helping the local elementary school students understand the importance of their piggy banks. It means knowing the customers who walk through the door by name. It means bettering my hometown for my family, friends and neighbors!" - Kate Dhamer
"To be able to address the banking needs of our Community.  Knowing our customers and knowing what specialized services will benefit them the most." - Jenny Woods
"Being a part of a community bank means our main focus is in fact the community. As a community bank we are primarily invested in the needs of our local families and small businesses. Solutions Bank participates in several events in our local area which helps show that we are a stable and reliable presence for our community. We are invested in our community's success!" - Alexandria Corson
"Being part of a Community Bank means getting to know your customers better. I have worked here for almost 20 years. I have gotten to know families from Great Grandparents on down. Our customers are the same people we see outside of the bank. They are the very same families my daughters went to school with, they played sports with, we go to church with, they know my grandkids. We have been out and customers come over and talk to us like we are old friends and that is because we are. I have had customers come in and ask me to call about their phone bill with them, because they did not understand something. Being part of a Community Bank simply is like working for extended family and working with friends. I love the atmosphere of a Community Bank. Thank you for this opportunity." - Sherri Johns
"What being a part of a community bank means to me is getting to know your customers on a personal level and not just as an account number.  Being able to call them by name and having a meaningful conversation about the things that matter most.  Also being able to be out in the community to interact with not only our current customers, but potential future customers." - Shaun Taylor    
"Personally, I believe that being fully engaged is of high importance when thinking of a true community bank.  I've found that there is a difference between a bank being in the community and a bank that is engaged in the community. I'm proud to be part of a team where we are active with the residents.  Here in Boone county one of our highest honors is to play an integral role in the annual Boone County Fair.  It's been a long standing tradition and people really take notice.  People pay attention to who cares about them and I'm glad we care." - Eric Jackson
"Being a part of a COMMUNITY BANK provides me with a sense of pride in our local areas, for our customers, and our staff.  We are passionate at supporting those around us.  A community bank is locally owned and operated with LOCAL decision making, and like SOLUTIONS BANK, we share similar values and principles as those around us.   This matches perfectly with the word 'community' by definition: 'a group of people in the same area, having common characteristics'.  As a COMMUNITY BANK, we focus on the needs of the families and businesses in the areas of our branches.  We know our customers because of the local events and activities we are involved with, we cheer for the same local high school teams and we might attend the same church services. . . . WE ARE COMMUNITY." - Kathy Sutherland
"I have been a resident of Forreston for 57 years and have had an account at Solutions Bank, formally Forreston State Bank, since 1965. Solutions Bank played a major role in our 125th year celebration in 1979. I was chairman of the event. I represented the bank as a member of the planning committee for the Forreston 150th event in 2004 and served as co-treasurer. The bank was a major player again. The bank has been a member of FABA (Forreston Area Business Association) since it was started. I represented the bank for several years and was president for two years. I was Mayor of the Village of Forreston for 12 years (1989-2001). The bank played a major part in any of our events, such as, Forreston Hometown Days. Today, the bank is always helping the American Legion's Car and Bike Show for Sauerkraut Days and many other events. Our bank in Forreston is the heart of our community." - Robert Dillavou
You can also check out these two other blog posts we shared in the month of April to to learn more about what you can expect from us!
https://go.mysolutions.bank/solutionsbankchat/the-community-bank-advantage
https://go.mysolutions.bank/solutionsbankchat/its-about-people
---
Keep Your Money Safe
Always remember that Solutions Bank will NEVER ask for identifying information such as social security number, full debit card information, account numbers, etc., over the phone. If someone calls, NEVER give out any of that information; hang up and call us.
---
Holiday Closures
Monday, May 30th, 2022: Closed - Memorial Day
As always, 24/7 banking is available anytime, anywhere through our mobile app, online banking, and ATM's. https://solutions.bank/